Many people don't realize that the Fast and Furious Series is out of order. Plus, there are preludes and short films that go along with the series. Here is a list of the movies in the order that you should watch them in if your going through a marathon. Feel free to use this blog as your personal guide for all the movies.
Fast and Furious Movies Series In Order You Should Watch Them In
This is Paul Walker's debut in the film franchise as he plays an LA detective undercover to investigate street racing. After falling in love with the underground scene he has trouble deciding how to manage his new identity. You might remember the Nissan Skyline GT-R R34 and other cars that made a debut in this film. This episode also sets up Brian and Doms' friendship together. Rob Cohen Directed this first film written by Gary Scott Thompson.
Here is a short released prior to the '2Fast 2 Furious' movies. You'll see how Brian O'Connor winds up in Miami, FL for the second film. You'll see what Brian does to his Skyline to make it a winner across the country.  The dialogue in the short is gone, and it's only six minutes. The short episode is directed by Philip G. Atwell, produced by Chris Palladino, and written by Keith Dinielli.
Brian O'Connor leaves Los Angeles and heads out to Miami with new partner Roman Pearce. The two are on a mission for the FBI to get into the inner circle of a Miami drug lord. This movie only has a 5.9/10 rating according to IMDb, however I believe it should at least get an 8 for being the start of a 9 movie franchise. Hip Hop star Ludicris makes his appearance in this film that was also directed by Rob Cohen.

*This movie is also referred to as 2 Fast thanks to the incredibly popular Act a Fool song by Ludacris.
This is a short film that was directed in 2009 as a transition between the third and fourth Fast & Furious movies. This is the second short film in the series. Dominic Toretto (Vin Diesel) stars in the mass majority of the 30minute short. Vin Diesel help direct this short as his character Dom moves his way across the Dominican republic.
In this film Brian O'Connor teams up with Dominic Toretto to bring down a dangerous heroin dealer. Some of the Fast and Furious 4 cars include a Toyota Supra, 1970 Dodge Charger R/T, 2002 Nissan Skyline GT-R R34, and others than you can find here. The Film also features Don Omar who is a Puerto Rican reggae-ton singer and actor. In conclusion Sung Kang who play Han Lue also makes a appearance in the film. Fast 4 is directed by Justin Lin and Written by Chris Morgan, notably Vin Diesel also helps produce the movie. The ending is pretty epic and leads directly into Fast 5 without a stop.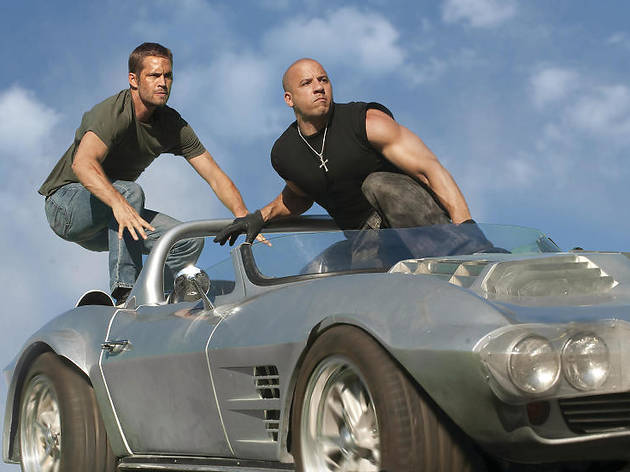 This is the fifth installment of the film and is alternatively known as Fast & Furious 5 or Fast & Furious 5: Rio Heist. In short, Brian O' Conner, Vin Diesel and friends are the stars in this one of course and certainly work their way with their team to steal $100 million from a corrupt businessman Hernan Reyes. This is the first film that does not involve street racing and is more of an action film involving cars as apposed the the previous films. Brian becomes a real criminal here and is no longer involved with the police. Dwayne the Rock Johnson makes his appearance and plays Hobbs, the law enforcement official assigned to take down Dom and Brian.
From the start of this Film Vin Diesels gang is officially professional and therefor is approached by the government to take down a highly unethical mercenary organization. Don't forget to watch the end to catch the the transition into Tokyo Drift. This film is pretty exciting and doesn't have to much street racing, mostly staying as an action film. You'll find some great cars in this film as well. Owen Shaw aka Luke Evans make his appearance in this film.
This is my absolute favorite 'Fast and Furious' franchise film. Lucas Black plays a southern young adult who becomes a major competitor in the Tokyo drift racing scene after being suspended from school in America and forced to move in with his ex-military father. Hip Hop personality Bow Wow stars in the film too as the right hand man to the main character who comeptes head to head with DK, the top drift racer in Tokyo. Sean Boswell (Lucas Black), ends the movie in an epic street race with a 1967 Ford Mustang Fastback.

Dominic and his crew thought they'd left the criminal mercenary life behind. After defeating international terrorist and criminal Owen Shaw and went their separate ways. Most importantly Shaw's brother, Deckard, is out after the fast and the furious crew one by one. Plus, a Somalian terrorist named Jakarde and a shady government official, "Mr. Nobody", are both competing to steal a online terrorist software called "God's Eye," that can turn any tech device into a weapon.  Above all Torretto must reconvene with his team to stop Shaw, and retrieve the God's Eye program, while he's caught in a power struggle between the terrorist and U.S. Government. Hobbs and the older brother Shaw get ain a huge action scene fight and you'll also see the Tokyo Drift connection at the end of this movie.
Dominic Toretto ran into a unknown women and is seduced. She happens to be a involved in terrorism and is betraying Dom's closest friends and family. It also marks the last  appearance of Paul Walker, who died in 2013 from a
fatal car accident
.  This film grossed $397.6 million worldwide during its opening weekend, which was the
second highest of all-time
. World wide the movie did $1.5 billion , making it the highest-grossing film of the franchise after only 12 days on the screen.
This movie is purely a spin off of the Fast and the Furious franchise. It is one of the worst Fast and Furious movies  As the movie did gross $759 million world wide. Dwayne the Rock Johnson and Jason Statham attempt to stop an cyber terrorist attacking the world with a online virus. This film is directed by David Leitch and Dwayne Johnson helps with directing while Chris Morgan was given credit for the witting of this film.
This is the final movie of the Fast and Furious series F9 and is the 1oth movie of the Fast & Furious franchise.  Dom Toretto and the family will face off against Dom's younger brother who works with an old enemy Cipher. This one packed with action and great looking cars is awesome. After this film is with another one.